Update 090602
See the Elvis paintings hanging in NYC,
thru Sept. 2002 @:
Diesel Denim Gallery
68 green street, NY, NY 10012
(212) 966-5593
---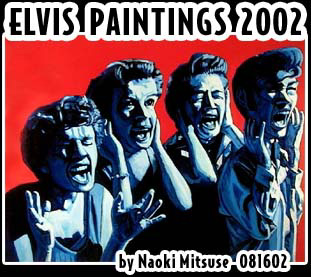 1. "Shrieking" 36" x 48" canvas, dated 063002
A few years ago, I wrote that I was done painting Elvis paintings. Well, like many couples that break up but somehow seem to inevitably get back together, I've decided to get back together with the King to mark the 25th anniversary since the King has left our world, So here we are, 6 new Elvis paintings for the year 2002!
And what did I do on this 25th anniversary of Aug. 16, 1977? As we once again, did not make it to holy Graceland for dead week, we did the next best thing and saw El Vez perform in downtown LA - If you didn't know, El Vez is DYNAMITE!
next >